CHANGE MANAGEMENT ASSISTANCE IN CONSTRUCTION 
Your are a public or private Project Owner ?



You have the responsibility for the success of your construction operations

These projects often generate impacts and significant changes for people (agents, employees, management, managers, users, suppliers, etc.) and question the current methods and work habits (rationalization of spaces, decrease in the number of parking spots, etc.).
Many project owners have experienced that taking into account the Human Factor has become necessary
They now integrate Change Management Assistance Services focused in the Human Factor to secure their projects

Let's take the example of the open-space :

It is not only the physical decompartmentalization of the offices that will allow employees to implement transverse project management techniques on their own (unlike traditional hierarchical management). We must accompany them, train them, guide them in this process of adaptation, both individual and collective. This learning process can be very fast if sufficient means are allocated to it, but it can never end in the opposite case, with the appearance and accumulation of various resistances to change.

AP2V Conseils assists you in every step of the way, to transform your real estate projects into a real Managerial Tool and a powerful Leverage of Transformations, for the benefit of a better overall performance.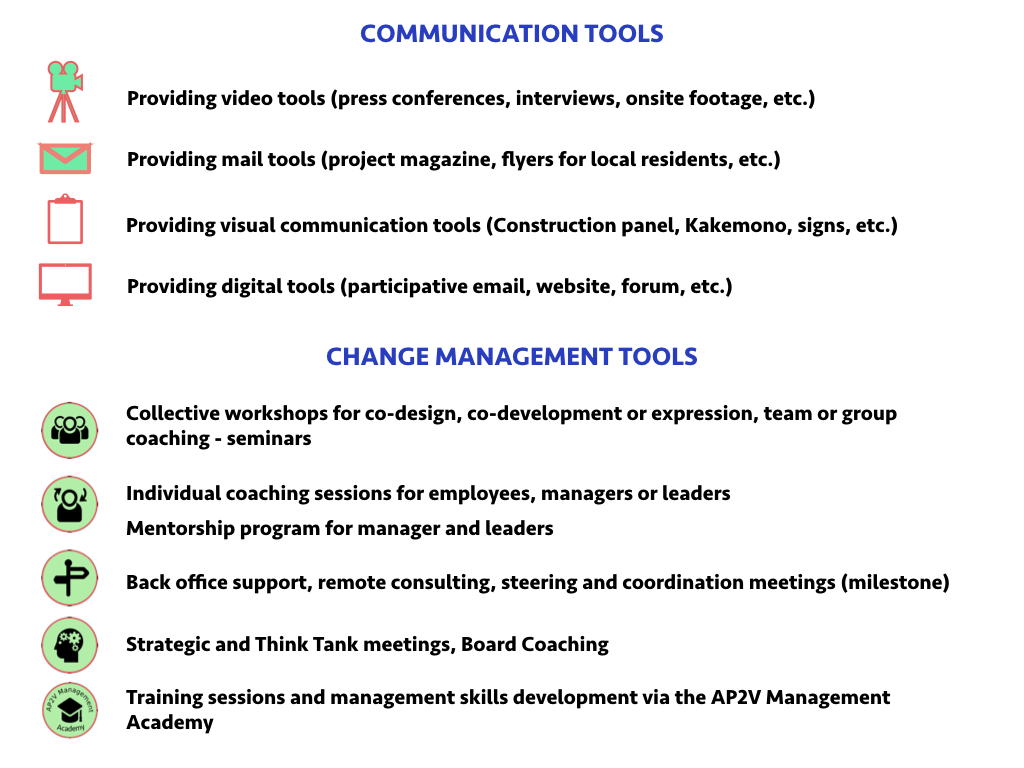 OUR Change Management ASSISTANCE combines INNOVATIVE and EXCLUSIVE Tools of Communication and COLLECTIVE INTELLIGENCE in order to secure changes resistance phenomenon. 
Contact us for more information and start securing your real estate projects today :